More than one million visitors from around the world enjoy Hanauma Bay each year, but some complain the educational facilities there are not up to par.
KHON2.
A new Kaua'i nonprofit is working to spread awareness about the ongoing struggle marine mammals face in Hawaiian waters.
Garden Island.
Blue 'Aina making a difference, one reef at a time.
Lahaina News.
Democrats expect to hold overwhelming majorities in the state House and Senate in the November elections but could drop a handful of seats if Republicans capitalize on voter angst over the economy and civil unions.
Star-Advertiser.
Here is the Star-Advertiser's first look at several potentially competitive state House and Senate campaigns, based on information from political strategists and party insiders.
Star-Advertiser.
The betting in legal and political circles around town is that Katherine Leonard will be Hawaii's next supreme court chief justice.
Civil Beat.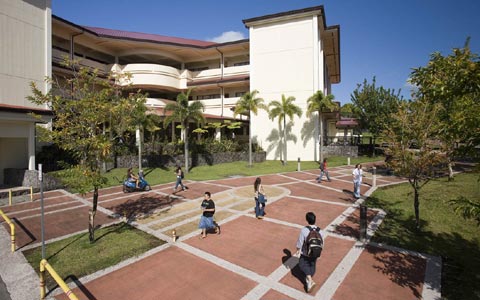 While Hawaii Island's slumping economy is bad for most everyone, it's a boon for Hawaii Community College, where administrators are bracing for record enrollment.
Tribune-Herald.
When students head back to school today, their teachers and principals will have a new tool to help them succeed.
Civil Beat.
Furlough Fridays behind them, more than 171,000 public school students head back to school this week to face new challenges as No Child Left Behind proficiency goals rise, the race kicks off to keep more schools from facing federal sanctions and teachers begin major curriculum shifts to follow national standards.
Star-Advertiser.
With nearly 1,000 students due on campus Monday, Kahului Elementary teachers and staff were scrambling into makeshift classrooms last week to open the 2010-11 school year.
Maui News.
There were traffic jams at the Salt Lake Target today because of many families were doing last minute school supply shopping.
KHON2.
The state Board of Education has extended the deadline for the completion of a survey that is part of the panel's search for a new state schools superintendent.
KITV.
When school starts next week, Kaunakakai Elementary teacher David Gonzales will have a What I Did on My Summer Vacation story to rival that of any of his fifth grade students.
Molokai Dispatch
.
Gov. Linda Lingle made a special trip to Maui on Saturday to help celebrate the 50th anniversary of the Maui Family YMCA and give a push to the organization's efforts to raise funds for a new gym.
Maui News.
Plans to dispose of properties the U.S. Navy doesn't need and development projects are putting the future of the Barbers Point Riding Club in doubt.
Associated Press.
The Hawaii Public Utilities Commission (PUC) approved a interim rate increase for Maui Electric Company (MECO) last week that went into effect Sunday.
Molokai Dispatch.
Renewing your motor vehicle registration just got easier. The County of Hawai'i is now offering an online motor vehicle registration renewal service 24 hours a day, seven days a week.
KHON2.
Donald Trump's sons are vacationing in Hawaii, to experience their own Waikiki investment, the Trump International Hotel.
Hawaii News Now.
The "Mufi express" rolled into Hilo on Saturday night in a rocking event that was part concert, part political rally and part steak fry dinner fundraiser.
Tribune-Herald.
The goals at Cellana, an algae-to-oil plant in the Natural Energy Laboratory of Hawaii, are long-term.
West Hawaii Today.
A county-commissioned study of the downhill bicycle industry will be reviewed Monday by the Maui County Council's Infrastructure Management Committee.
Maui News.
Honolulu has received $55 million in federal funds for preliminary engineering and final design of the rail transit project.
Filipino Chronicle.